Considered the finest panels available for residential and commercial construction, Panels are handcrafted with the highest grades of Western Red Cedar. Each panel is constructed with a solid one-piece plywood backer followed by an Elk VersaShield® moisture barrier that's waterproof and breathable. And the construction of our panels is so dependable, they're certified to withstand winds up to 196 mph.There are many other benefits to builders, architects and homeowners, including: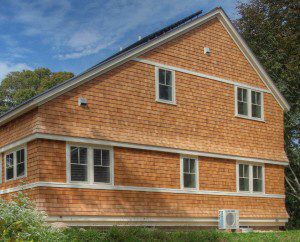 Savings. Our panels go up an average of six time faster than individual shingles, dramatically reducing installation costs.
Easy installation. Overlapping end joints don't require caulking and blind nail patterns are available.  Reduced waste. Splitting of individual shingles is virtually eliminated. And single-course panels reduce waste in gables and other tight spaces.
ASK US ABOUT… CEDAR SIDING